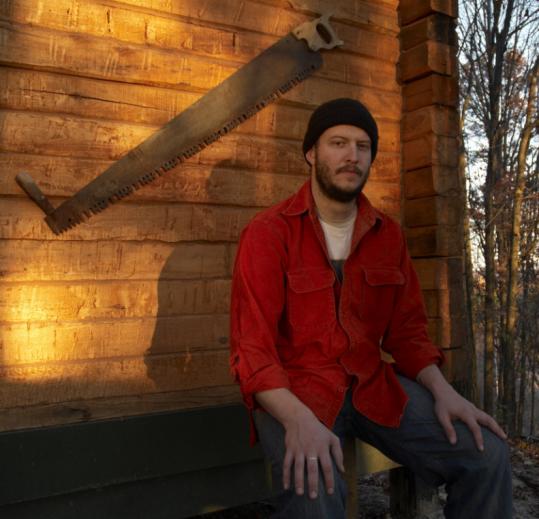 I wanted to preface this review of Bon Iver's For Emma, Forever Ago with my thoughts on indie labels...

It was Tuesday and I thought I'd head to the record store. Why? Well, because every good indie geek knows that Tuesday is release day. So, I stopped by the record store despite no news of any good releases today. (Sorry Portishead fans. They put me to sleep.) You never know what you might find.

I did stumble upon the Bon Iver album. Legend has it that Bon Iver, aka Justin Vernon, had just suffered the break-up of his band or with a woman or both before secluding himself in a Wisconsin cabin for three months. He played Mojo's recently (which I missed) and has been the hot topic in these here parts ever since.

Either way, I was skeptical. I've been burned by the folk/singer-songwriter set before. How good could this record be?

As soon as I sat down in my car, I started to tear off the CD's plastic wrap when I saw it: Jagjaguwar. I hadn't realized that one of the best record labels of the moment had released For Emma.

This brings me to a long-held opinion that indie labels can be counted upon to base one's record purchases. Sure, there's always a dud on the roster or some dead weight, but overall a good label puts out quality product more than it doesn't.


While cutting my indie rock teeth on anything grunge, I discovered a whole industry of indie labels that could provide a bounty of bands from which to choose. Sub Pop was one of the first I explored thanks to my gateway love of Nirvana and a family connection. Then there were labels like Matador, Touch & Go, Drag City, K Records, Kill Rock Stars, and Merge. I could count on any one of these labels to provide a seal of approval on potential purchases.

Thankfully, that tradition of trustworthy labels has continued. Besides the aforementioned Jagjaguwar, Bloomington is also home to Secretly Canadian. Omaha, NE has given birth to Saddle Creek and its offspring at Team Love. Of course, there's also Southern Records, Barsuk, Domino, XL Records, or Nonesuch.

While some of these labels, old and new, have signed distribution deals with some major labels(or wree already subsidiaries and I'm just too lazy to figure that out), there are always a few truly indie ones out there left unexplored. One such label is Emergency Umbrella Records whose line-up features COMO's own Foundry Field Recordings and Bald Eagle, as well as St. Louis' Gentleman Auction House and current Pitchfork darlings Sinkane (straight outa C-bus!).

This dependency on good indie labels to lead down a path of musical righteousness can never be appreciated enough. If there is anything to learn from this rambling post, it's that a good indie label can lead you to good music nearly every time. So, go to the local record dealer and ask for the latest from Jagjaguawar, Matador, or Emergency Umbrella. You won't be disappointed.

And now for the review I promised about 500 words ago...

Bon Iver - For Emma, Forever Ago

Two Hundred Eighty-Eight Words: When I heard the back story to Bon Iver's Jagjaguwar debut, I was skeptical that it would be a sappy, SNAG-ish ordeal. I mean, who takes off to a Wisconsin cabin in the middle of the winter fresh from break-ups with girlfriends and bands to record? This would either be genius or disastrous. Of course, the fact that Jagjaguwar released it told me that it was worth the risk.

I worried that For Emma would lack the same things that have endeared other highly acclaimed and often blogged about indie records. Would it have the dark intensity of a José González? I figured it be devoid of the soul of a TV on the Radio. There's no way that loss and heartache could come across the way Elliott Smith's work does. Could the songs haunt the way a Nick Drake record could? Could the emotion of the Once soundtrack be realized without the singer's better half? I knew that no record could challenge She and Him's debut.

What I found is that all of these things (and much, much more) was actually possible. This album contains complexities I did not expect to find in such a piece. Never would I expect that someone on the verge of life falling to pieces could create such an impressive record.

What's really interesting is the effect the physical place has on Bon Iver's recordings. My friend Billy wrote about "environment affecting art". This album is haunted with the echoes of that Wisconsin cabin, reminiscent of The Great Lake Swimmers' debut (recorded in a silo) or Cowboy Junkies' The Trinity Session. Yes, art is definitely affected by its surroundings. Let's hope Bon Iver returns to his cabin the next time he records.

The one song that makes it worth $17.95: "Skinny Love"

Pitchfork Says: 8.1